When thinking about energy efficiency and renovation, energy communities might not be the first option that comes to mind. However, citizens (as prosumers or members of renewable energy communities) will have an important role in achieving the ambitious objectives set by the European Union's Renovation Wave Strategy. Access to public funds should also become easier for renewable energy communities thanks to this initiative, as it seeks to remove state aid barriers and encourage more investments.
The main reason behind: reducing energy poverty
What are the main disadvantages of living in a poorly insulated house? The discomfort, the waste of energy and the consequently higher energy bills! The most vulnerable people in Europe are not able to pay such bills and since the 2008 financial crisis, energy poverty has spiked, leading to the creation of many European grassroots movements fighting for energy justice and against energy disconnections.
Community energy initiatives often have a strong energy poverty dimension. They can reach out to vulnerable and low-income households to:
Invest in ownership to get cheaper access to renewables, so they can benefit from the collective wealth generated,
Invest in energy efficiency measures and building renovations to improve living conditions,
Learn how to reduce their energy consumption and bills.
Awareness raising and mobilisation
In order to achieve the ambitious renovation targets set for cities, communicating the advantages and opportunities of building renovation and the available funding for citizens will be important. Citizens' energy projects are great for that!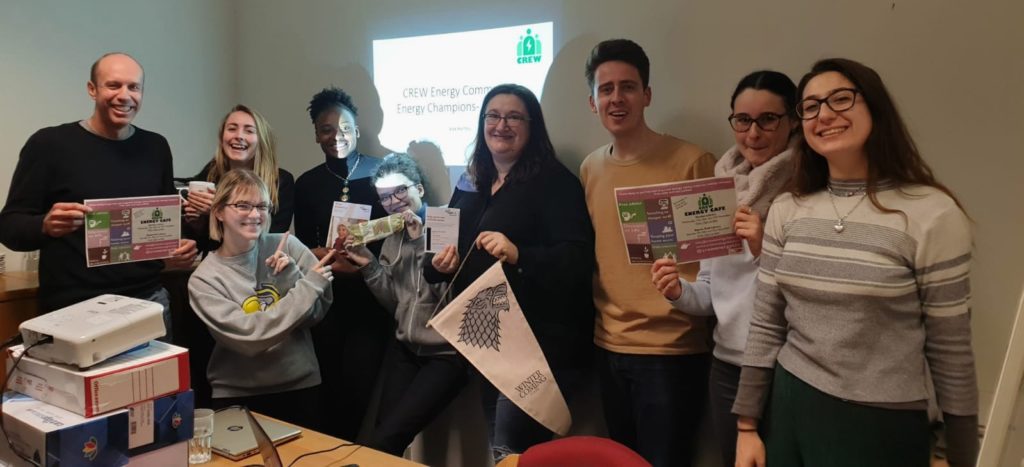 The organisation CREW Energy in London makes for a great example: it coordinates projects on energy transformation and hosts energy-advice cafés to make residents more aware about energy efficiency. These regular exchanges take place in community hubs, where CREW Energy staff invite community members to discuss their role in energy efficiency while sharing tea and biscuits. In this welcoming setting, people can get advice on the best energy tariffs, additional benefits, grants and discounts on energy bills.
In some cases, community groups can also support individual households in the implementation phase of their renovation projects. For example, in Manchester (UK), the local cooperative Carbon Coop developed the "Community Green Deal", a retrofit programme in collaboration with the Greater Manchester Authority. The project enabled householders to receive a free assessment, access zero percent interest loans, a design package from a retrofit company and contractors procured and managed by Carbon Co-op. Nine out of the 12 completed retrofits were included in a single contract, with Carbon Co-op as the client, managing the project on behalf of the household/members. Interventions ranged from external wall insulation to efficient boilers and solar panels installation. As a result, gas use decreased by 47% and each household saved from 200 to 700 Euro a year.
Energy communities and public building renovations
Energy Communities can also directly work with cities in public renovation projects. The Italian muncipality of Zelo Buon Persico presents an exemplary case of collective energy efficiency intervention (one of the first of its kind in the country). At the end of 2017, they launched a call for tender to replace old thermal plants in different public buildings and upgrade the public lightning system with LED lamps, but received no offer. The Italian cooperative Energia Positiva decided to enter the competition and won the contract. They raised around 500 thousand euro from their members (some of them are also residents of Zelo Buon Persico) and subcontracted the job to two companies that are also part of the cooperative. In exchange, the municipality signed a 20 year economic agreement in order to amortize the interventions and allow them to recover the investment.
Want to set up a community energy project?
Do you want to learn more about community energy? Would you like to start your own project but don't know where to start? In cooperation with the organisations Friends of the Earth and RESCoop, we have published the guidebook "Community‌ ‌Energy:‌ ‌A‌ ‌practical‌ ‌guide‌ ‌to‌ ‌reclaiming‌ ‌power‌", packed with instructions, practical tips and resources, to build a local, community-led renewable energy revolution in Europe!