The European Union recently passed essential legislation to restore ecosystems across Europe. Through the restoration of wetlands, rivers, forests, grasslands and marine ecosystems, the EU's Nature Restoration Law aims to increase the continent's biodiversity, guarantee clean air and water for all, limit the rise of global temperatures, and build Europe's resilience faced with increasing climate disasters.
Local governments have an important role to play in implementing this legislation in their territories. Not only can they preserve natural ecosystems in their areas, but they can also reintegrate nature within the urban environment to enhance their city's resilience and quality of life.
Increase biodiversity in your city by adopting nature-based solutions and setting ambitious nature restoration targets, that visibly makes nature a part of the urban landscape. Here are a few examples of tangible targets for your city related to biodiversity, inspired by citizen assemblies, local pacts, and other projects across Europe.
Mentioned in the Flemish pact, the target of 1 new natural park per 1,000 citizens would help green our cities, favouring biodiversity and fighting against heat islands.
Creating new natural park is a good way to add greenery in cities. The city of Utrecht in the Netherlands is making significant progress. As part of its Green city accord, the city will add 75m2 of greenery for every household, meaning that 40% of every neighborhood will be green.
Another great target from the Flemish pact is to create 0.5 hedged or façade gardens per citizen by 2030.
In the same country, an interesting initiative has been launched in October 2022: Vertical gardens. EUR 500,000 will be allocated from the King Baudouin Foundation, to create green facades on public buildings in Belgium. Eleven projects have been selected, including the CHU Saint-Pierre hospital in Brussels.
The Climate Assembly of the United Kingdom decided to tackle the question of wetlands and peatlands and recommended to restore and manage all such lands sustainably.
In the French city of La Rochelle, the conservation of the surrounding marshlands is set as one of the main goals of their "Zero carbon territory strategy". The city aims to protect its coastal territory and to develop its resilience, also counting on its wetlands to act as carbon sinks.
Another target of the Flemish pact is to plant one extra tree per citizen. The trees should promote the diversity of species, with an emphasis on species resistant to climate change.
The city of Vilnius in Lithuania has created the "Green Wave initiative" as part of its green city accord. The initiative aims to plant 100,000 trees, 10 million shrubs and 300,000 vines within the next few years.
---
More tangible targets for your city…
Are you looking to set ambitious targets for your city's transition?
Find further inspiration in our Tangible Targets publication, which includes a comprehensive set of 33 targets spanning across food, housing, mobility, energy, biodiversity, circular economy, and awareness raising!
… Inspired by Citizens' Assemblies
To compile this list, we largely drew inspiration from citizens' assemblies focused on climate issues in various European cities. Many times, the measures debated and suggested in these assemblies are much more ambitious than the policies implemented. We hope that such measures emerging from Citizens' Assemblies inspire bolder and faster action in cities across Europe, putting the citizen at the center of the transformational journey towards a climate neutral and resilient future.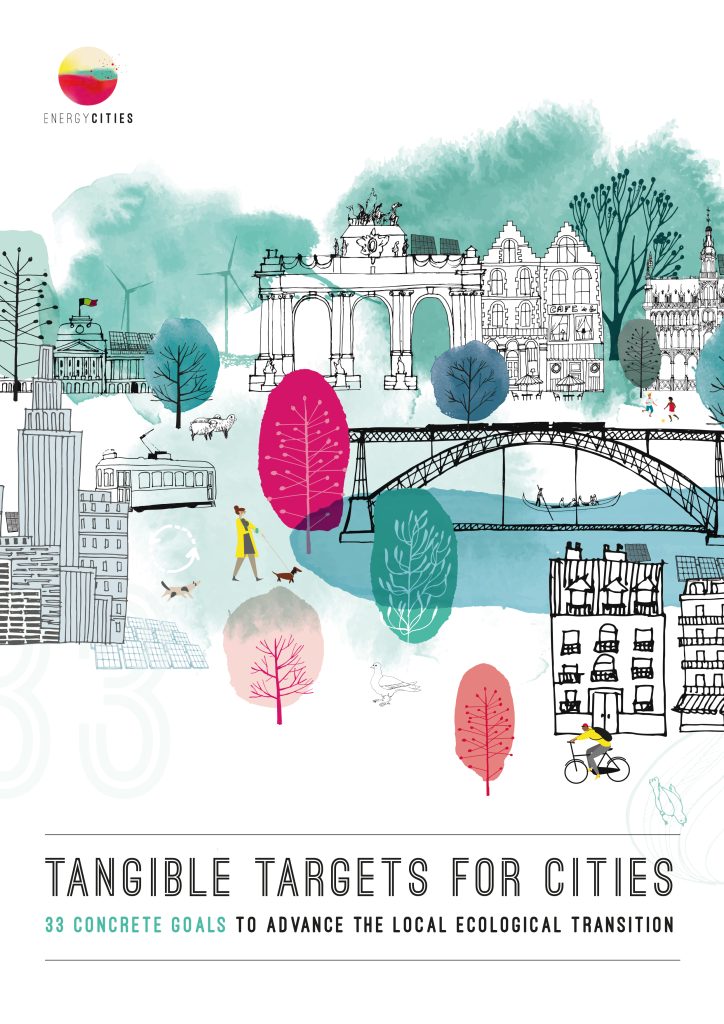 Tangible Targets for Cities: 33 goals to advance the local and ecological transition