We are working on offering exciting opportunities for learning, networking and challenging established beliefs among our members. Below you will find information on the main opportunities to reinforce our community and tackle our common challenges in 2023. Save the dates and register for our Hubs to make sure you are informed about the publication of the detailed agendas!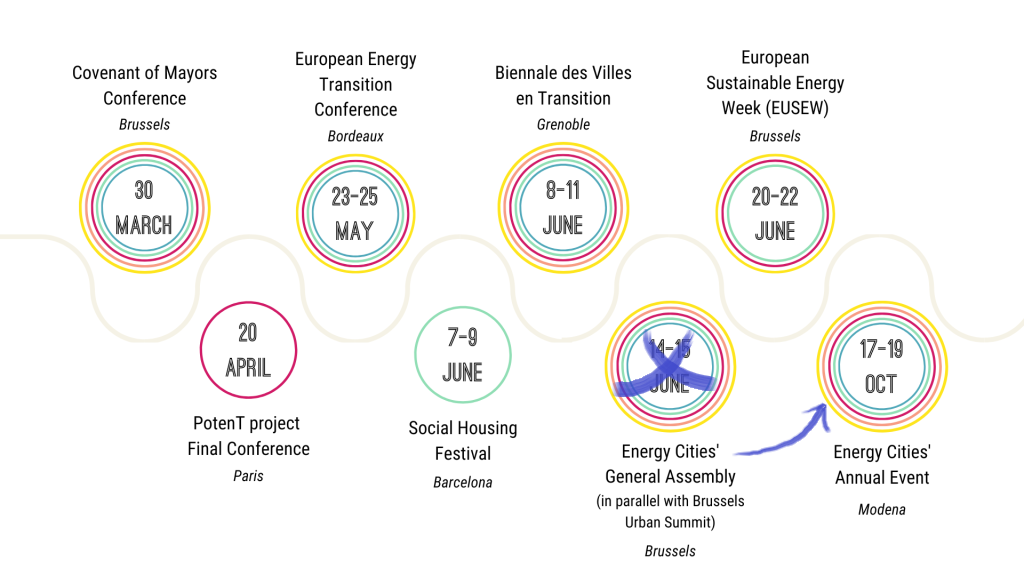 March 2023
30 March – Covenant of Mayors 2023 Conference – Brussels (BE)
The Covenant of Mayors 2023 Conference will be a unique opportunity to reflect on how local authorities are responding on different fronts to the ongoing energy crisis, and shielding citizens and local business from soaring energy prices. It will also be the occasion to envision mid to long-term solutions for a deeper societal transformation – shifting away from mainstream consumption behaviour to more resource sufficiency – with representatives from EU institutions, including Executive Vice-President Frans Timmermans and EU Commissioner for Energy Kadri Simson.
Related Hubs:
April 2023
20 April – Public Organisation Transform Energy Transition Conference – Paris (FR)
How to achieve more carbon reduction by harnessing the potential of direct and local actions by citizens and communities? Lorient, Pamplona, Parma, Tartu, Milton Keynes, Ostrava and Ettlingen have some answers! Join them in Paris to learn how they transform local energy markets, thanks to energy communities, development of public companies and crowdfunding, and discuss what's next.
Related Hub: Community energy Hub
May 2023
23 – 25 May – European Energy Transition Conference – Bordeaux (FR)
We will be at the 23rd edition of the European Energy Transition Conference. Stay tuned for the programme and spot the workshops that we'll animate. Natural gas phase-out and transformation of food systems should be in the priorities!
Related Hubs:
June 2023
7 – 9 June – International Social Housing Festival 2023 – Barcelona (ES)
Interested in developing districts providing affordable and decent homes which embed technological, social and financial innovations? Then the International Social Housing Festival is for you! We will co-organise, with Affordable Housing Initiative, study visits and workshops based on real exemplary cases.
Related Hub: Fossil-free cities Hub
8 – 11 June – La Biennale des Villes en Transition – Grenoble (France)
The European Green Capital 2022 is back with a major event to discuss social, economic, environmental and democratic transformations.
Related Hubs:
14 – 15 June – Energy Cities' General Assembly – Brussels
Related Hubs:
20-22 June – EU Sustainable Energy Week – Brussels (
This year, we are putting sufficiency on top of the EU policy agenda during EUSEW Policy Conference! Our goal: having the EU include a Sufficiency Pillar in the Governance of the Energy Union. EUSEW will be key to moving our agenda forward. But we'll also prepare workshops for you to learn and network on the development of One-Stop-Shops supporting efficient renovations, reuse of vacant spaces in cities, and inclusive energy services to fight energy poverty.
Related Hubs:
October 2023
17-19 October – Energy Cities' Annual Event – Modena, Italy
The unique moment of the year to create new links, renew our priorities and build the foundations for higher ambitions and collaborations! Redesign of cities is already ongoing: collective and transformative solutions are put forward to change our homes, our streets, our food and our jobs to reach climate neutrality. Save the date to share and learn with your European colleagues!
This year, we suggest you start networking when traveling by train to Modena on the 17th of October.
[EDIT] ...including Energy Cities' Annual General Assembly: After a 2022 year marked by an unprecedented energy crisis, it is time for a big bang: a profound change in the European energy systems. Join us to discuss the future of energy markets at EU, national and local levels, and to vote for the new Board of Directors of our network!
Related Hubs: