Back in 2016, our member Barcelona decided to launch "Superilles" – Catalan for Super Islands or Superblock – to reduce car and noise pollution for their residents. In each Superblock the traffic was allowed only in the external perimeter, and pedestrians and bikes always came first. Car lanes shrank and the available space was used for recreational green areas, where citizens could test new uses for public space.
The project, originally developed by the local Urban Ecology Agency, encountered some initial resistance mainly from frequent drivers and motorist, but eventually became very successful: it is now a reference case for many other cities. Since 2016, several Superblocks have been created in Barcelona, with great benefit for the citizens' health and quality of life.
That is why at the end of 2020, Mayor Ada Colau announced an ambitious extension of this concept to the city centre: 21 new streets in a nine blocks perimeter in the district of Eixample. In addition, they will create four new squares of 2000 square meters each at the intersection of the main future green axes of the district. The project will benefit from the support of the European Investment Bank, who earmarked €95 million to finance 44 new climate and energy-focused initiatives in the Catalan city last summer.
This time, the Municipality aimed to give an even bigger role to the local community: at the beginning of 2021, they launched two calls for ideas to design the new green axes and squares. The objective of the competition was to create "a new type of public space that truly prioritises people and integrates natural processes, green areas and biodiversity, optimising resources, with rational and simple solutions".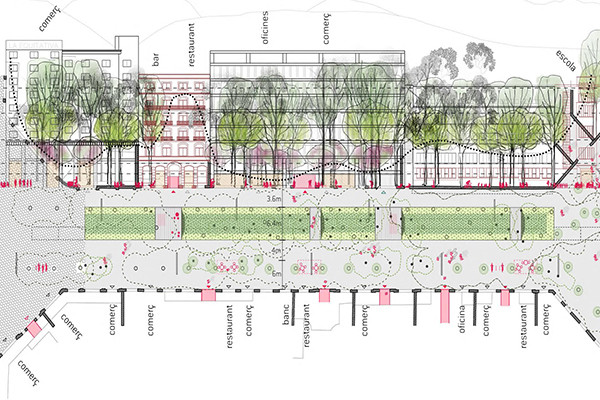 Last March, Mayor Colau announced the winners of the calls (4 for the squares and 4 for the green axes). They will work in two teams on a joint document to guide the implementation of their projects. Each project has also been submitted to residents and local organisations to collect opinions and suggestions that the winners will use to improve their ideas. The plan is to have the eight projects ready to implement in February next year, start the works in June 2022 and finishing them in the first quarter of 2023.
We look forward to seeing the Eixample Superblock come to life!