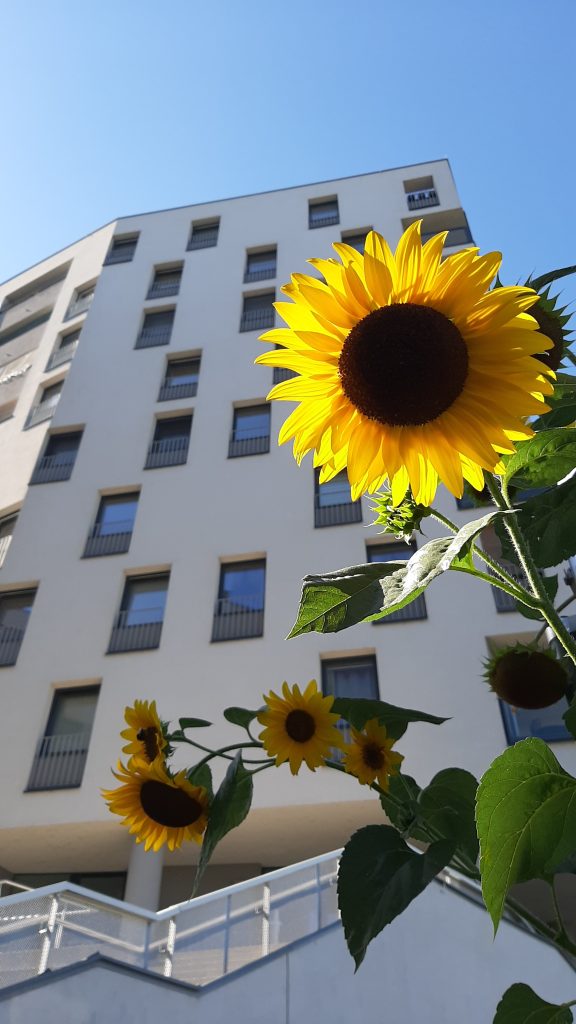 Stubborn optimism is one of the ingredients we brought back from a study visit to the most innovative energy community actions in Austria and Vienna. One day is far too short to dive into the various citizen-focused energy projects that exist in the country. It was enough, though, to get a glimpse of how Austrians design their solar future in a collaborative way.
Thrilled by the coordinated support for energy communities
"We finally experienced energy communities as a living practice" said Zoran Kordic from ZEZ at the end of this fully packed study tour in Vienna. Indeed, Waltraud Schmid, Director of the city-owned Urban Innovation Vienna and her great team impressed the LIFE LOOP group with their powerful coordination of citizen energy activities. One of them, Dimitrios Katsakaprakis from Minoan Energy in Crete, was full of admiration. Why's that? "It is impressive for me because the situation with the Greek Municipalities is completely different. Almost all of them cannot implement such ambitious projects for several reasons: lack of knowledge, lack of vision, insufficient staff, lack of funding, bureaucracy etc."
Since 2021, energy communities in Austria have been able to access free support from the Austrian Coordination Office (Österreichische Koordinationsstelle). Operated by 3 employees, this national one-stop-shop was set up with the National climate and energy fund and by the Ministry for Climate Action. As the energy community model and its set up are still seen as complex by many, the Office provides:
Sample contracts and information
A community energy map of Austria
Financial support programmes
Sara Gollesi from the Italian cooperative Enostra was impressed by the Viennese and Austrian approach based on a long term and integrated vision. She said: "This is what I feel we lack most in Italy: it is difficult to set up bottom-up initiatives when you don't have a clear roadmap and you don't know how the framework and the objectives will evolve within a 10-year time frame."
Foresight, sufficiency and ecology in Vienna's biggest urban development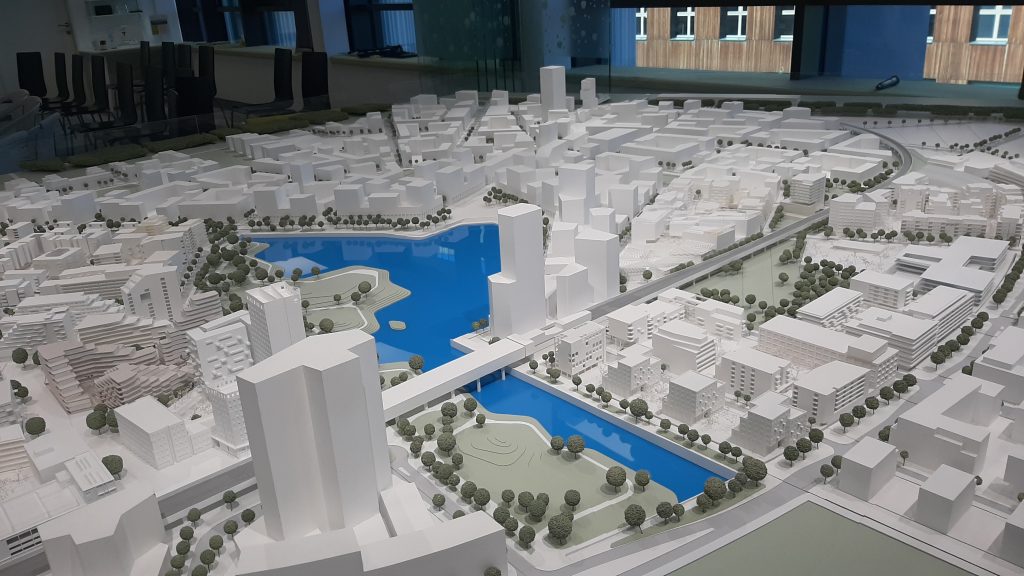 The huge urban mixed-use project of Aspern Seestadt is one of Europe's biggest urban development projects. By 2030 it will provide housing for up to 20000 Viennese residents and as many workers in office spaces. Infrastructure is designed to have a mobility mix of 40% public transport, 40% bike/foot and only 20% cars.
Managed by Wien3420 AG, an agency jointly owned by the City of Vienna and other stakeholders, the development was still designed and evolved involving neighbouring communities. We met one of them: LISA is a sustainable co-housing project that combines sufficiency and ecology. It provides smaller apartments complemented by shared spaces for 90 residents (including 20 kids). The residents' association produces its own PV power and gets the remaining renewable energy from a green supplier. This collective power supply is fixed directly in the residents' rental contract.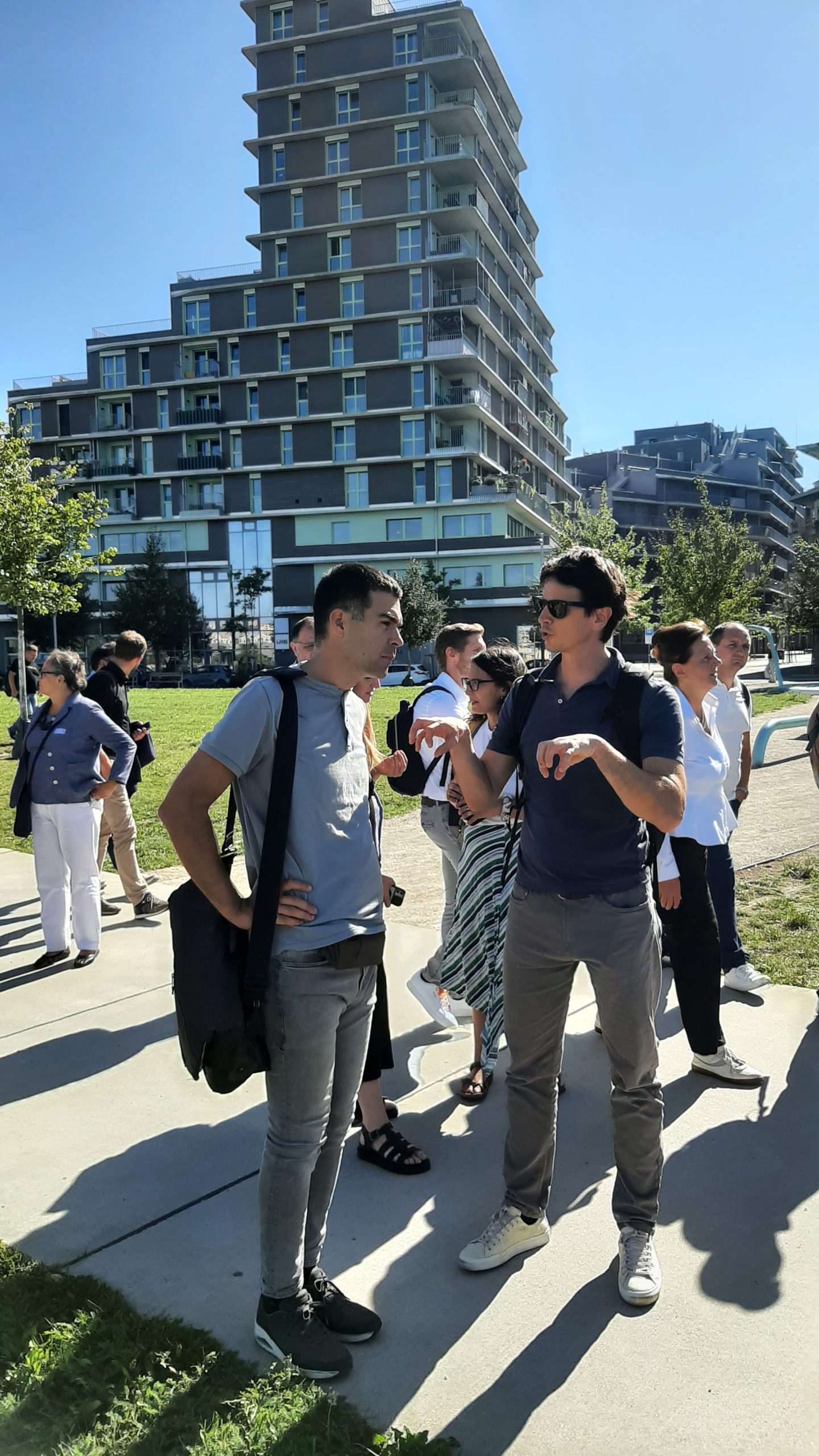 From small-scale to XXL energy community projects
Even though the city-citizen collaborations could still be boosted in Vienna, Croatian energy community expert Zoran Kordic from ZEZ and his LIFE LOOP colleagues felt the "spirit that helps boost community energy". Projects presented ranged from the basic example of a family electricity sharing between two households to an inspiring neighborhood story. Living next to each other in a modern residential area, two motivated neighbours launched the energy community EEG Kannweg during their after-work hours. Their energy sharing scheme comprises 11 members which includes 2 producers, 2 prosumers and 7 consumers. It produces 4246 kWh per year with 2180 of it being consumed on the spot. The excess power goes into the grid. Despite a fast set up, stumbling blocks remain, such as data challenges, volatile prices and limited grid capacity.
A more advanced and professionalized example are OurPower Energiegenossenschaft SCE mbH cooperative and Grätzl Energie. Established in June 2021, the latter is Vienna's very first energy community. Today it comprises 40 households and companies who benefit from shared renewable energy (some of them without own PV installations).
Finally, the LIFE LOOP pilot and satellite cities also learnt about the voucher model organised by Austria's largest power supplier Wien Energie (presentation). This commercial scheme allows citizens to invest money in a renewable installation and to receive payback in the form of vouchers. 
Cristina Cudrec from the city of Bistrita in Romania believes that "it is important for our citizens to understand from the beginning that a community energy can take different shapes, not just one. As in Bistrita we do not have an energy community yet, and we are addressing the citizens to raise their awareness about its importance, it is vital to send out very clear information. We look forward seeing how it will take shape in our city!"
The Bulgarian perspective by Todor Popov, Municipality of Gabrovo: "What I mostly grab with me are the behind-the-scenes information on great initiatives. One year after the start of the LIFE LOOP project we now know the regulatory framework and the energy communities concept. However, our major milestone is to organize the internal regulation of an energy community, including how to set the electricity price for the members of a community. We are just creating our first financial model. It was a very useful that we've seen very different models in Vienna: from a community with only 2 members to the 2 million consumer voucher scheme."
Ioanna Angelaki from Electra cooperative in Greece gave the perfect wrap-up: "These two days provided us with the valuable opportunity to meet inspiring and successful community energy projects, including energy communities, co-housing projects, organisations, and energy suppliers, all of whom are actively contributing to the promotion of community energy in Austria."
Romanian expert Camelia Sava from the cooperative Cooperativa de Energie left Vienna full of enthusiasm: "Even if Romania is a bit behind on this domain, I found similarities and problems to overcome with all my colleagues and also I saw how they do things. It was the beginning of a nice process and I hope that all of us will get there."