The EU has released its 'Smart and Sustainable Mobility Strategy' which sets out a number of goals for how people and goods will move around and between our cities in the coming decades.
To achieve the goals the European Commission has identified 82 different initiatives which it has conveniently organized into 10 'flagships'.
One thing is certain, the European Commission wants to change travel within and between cities.
"Cities are and should therefore remain at the forefront of the transition towards greater sustainability. The Commission will further engage with cities and Member States to ensure that all large and medium-sized cities that are urban nodes on the Trans-European Transport Network (TEN-T) network put in place their own sustainable urban mobility plans by 2030. The plans should include new goals, for example on having zero emissions and zero road fatalities. Active transport modes, such as cycling, have seen growth with cities announcing over 2300 km of extra cycling infrastructure. This should be doubled in the next decade towards 5000 km in safe bike lanes. Clearer guidance is needed on mobility management at local and regional level, including on better urban planning, and on connectivity with rural and suburban areas, so that commuters are given sustainable mobility options. "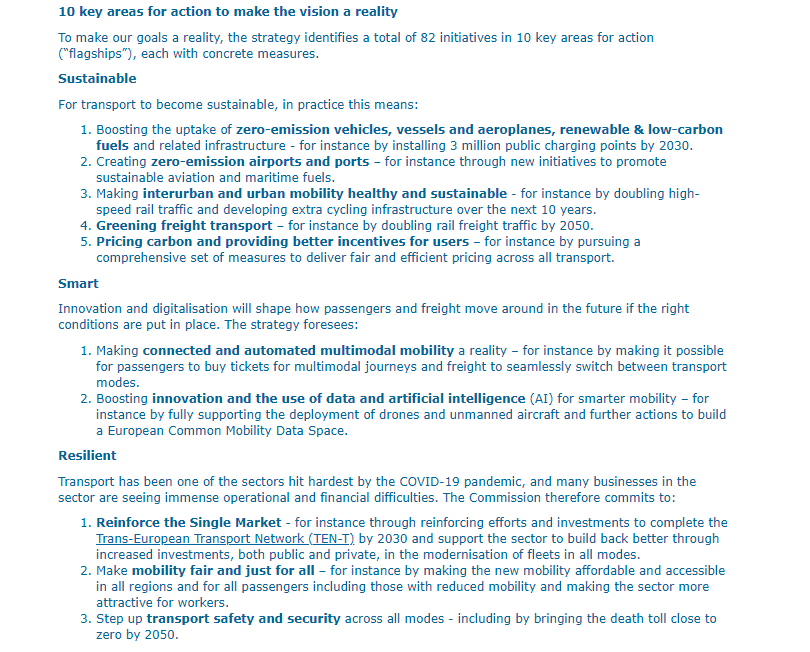 Along with the 10 flagship priorities the European Commission released a set of milestones attached to some ambitious dates:
By 2030:
at least 30 million zero-emission cars will be in operation on European roads
100 European cities will be climate neutral.
high-speed rail traffic will double across Europe
scheduled collective travel for journeys under 500 km should be carbon neutral
automated mobility will be deployed at large scale
zero-emission marine vessels will be market-ready
By 2035:
zero-emission large aircraft will be market-ready
By 2050:
nearly all cars, vans, buses as well as new heavy-duty vehicles will be zero-emission.
rail freight traffic will double.
a fully operational, multimodal Trans-European Transport Network (TEN-T) for sustainable and smart transport with high speed connectivity.
According to the strategy all large and medium-sized cities should have a sustainable urban mobility plan by 2030. This should include integrated electronic ticketing facilities for multimodal transportation and automated mobility should be deployed on a large scale.