Calvino's invisible city of Euphemia is a unique marketplace. In addition to goods and services, people trade also stories.
You do not come to Euphemia only to buy and sell, but also because at night, by the fires all around the market, seated on sacks or barrels or stretched out on piles of carpets, at each word that one man says–such as "wolf," "sister," "hidden treasure," "battle," "scabies," "lovers" — the others tell, each one, his tale of wolves, sisters, treasures, scabies, lovers, battles. (…) the city where memory is traded at every solstice and every equinox (Invisible Cities, Italo Calvino).
Cities' identity and evolution are influenced by stories spread like wildfires. On the 18th of October, during the Inspirational Day at the Annual Forum in Modena, we took our partners and members on a journey through different food strategies. Their implementation can contribute to the sustainable transformation of cities and write a new story.
Let's have a closer look at the inspiring sessions held by the Food Systems HUB!
The table is set: How can we link individual and collective transformation?
Being Brașov the most tourist Romanian city, it aims to become a green destination. The development of food strategies is part of the path towards sustainability. Even though the municipality doesn't have a "food department" yet, they were able to implement a few actions to improve residents' well-being. Among other projects, public school canteens offer only healthy food. But a lot has still to be done to develop a food culture. Indeed, education is key to getting the community on board and having healthy citizens.
Moreover, local laws have been recently amended to support farmers in managing logistics. The objective was to eliminate intermediaries and promote farmers' direct involvement in the local market, shifting the emphasis from exports. As a consequence, a greater number of consumers now have access to locally produced goods.
Rennes Métropole is an inspiring example. In 2023, a long-lasting food plan (plan alimentaire durable) has been adopted. It aims to foster an agriculture system that respects the environment, as well as to provide healthy, affordable food to all citizens. The plan sets ambitious objectives to be achieved by 2030. Among them: -15% of GHG emissions produced by the agricultural sector; no more chemical pesticides, and at least 45% of land dedicated to organic agriculture.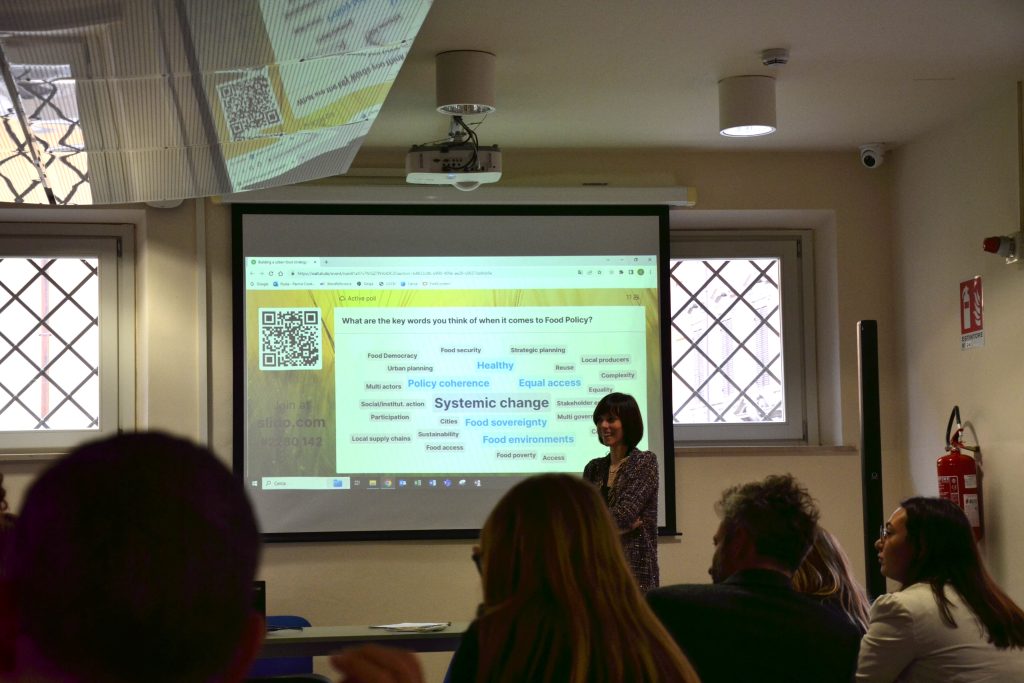 Building an urban food strategy: How to do it?
Co-organized by the city of Parma, this participatory session brought into the spotlight the experience of the Italian Milan and the Mexican Merida in designing effective food policies.
Since 2015, Milan has encouraged school canteens to replace meat with fresh vegetables. The result is -43% of meat eaten by pupils and students. Fruit is always served as a morning snack. To limit food waste, children can take home bread and fruit they don't eat. Moreover, the municipality supports a short supply chain by promoting local productions (agricultural districts).
Milano's initiative "Zero Food Waste Hub" strives to fight both waste and food poverty. It saves 120 tons of food losses every year per hub. The stakeholders involved in the project collect the surplus from supermarkets and distribute it to the poorest families. In 2021, this project was awarded with the Earthshot Prize.
Observing what's going on beyond Europe can be a good exercise to learn from other cultures. With the project "Circulo 47", Merida focused on creating a link between the demand for healthy, local food and local farmers' offer. The project created a market where citizens can buy only local food on weekends. The result was a stronger local economy, a more sustainable use of the land, healthy food alternatives, and an empowered rural community. Overall, the food sovereignty improved.
Finally, ACR+ – the international network of cities and regions sharing the aim of promoting sustainable resource management and circular economy – highlighted how effective food policies need a constructive dialogue between the regional and national level. Circular economy, energy, and food are linked. This is why we need to educate citizens to adopt more sustainable lifestyles and authorities to implement a real circular economy.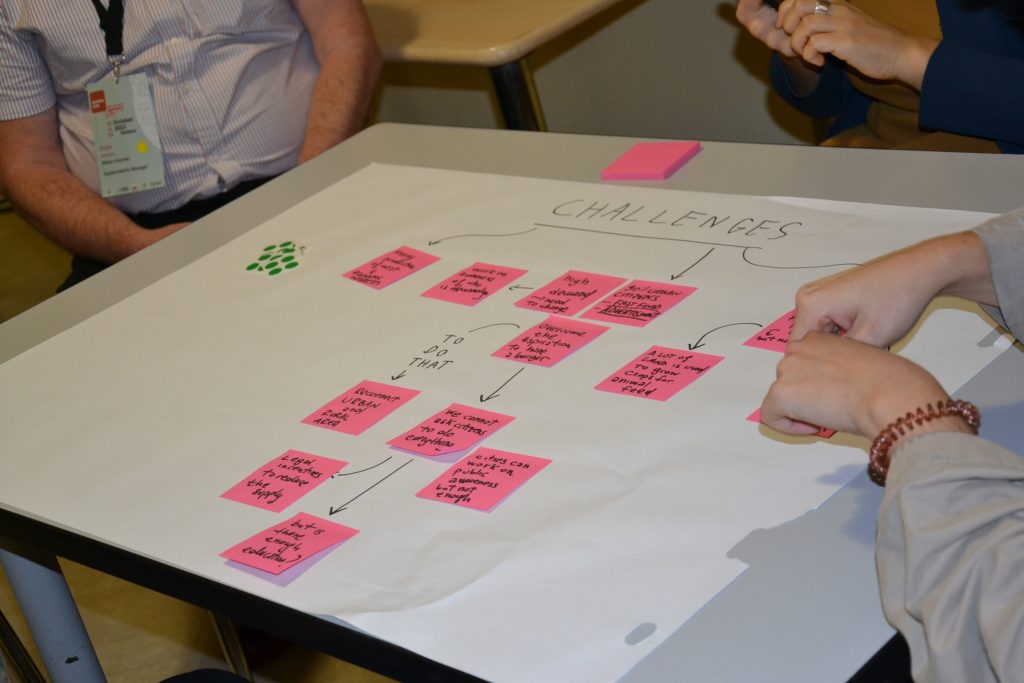 Transforming urban food metabolism at the local level
How to actively involve citizens in the implementation of effective food policies? Co-organized by Slow Food, the workshop invited cities to reflect on urban food systems transformation.
In particular, participants brainstormed on how to reduce the production and consumption of industrial meat and animal products. Everybody agreed that food culture is key to changing the mindset, but which actions can be implemented? Several! From mapping local agroecological producers to promoting training for public canteens. From developing local campaigns to offering legumes-based tastings and cooking training. From setting up policy dialogues to boosting local production.
Lessons from Euphemia
The time spent in Euphemia taught us that implementing efficient food strategies means fostering a 360° change. This means fighting food poverty, providing citizens with quality food, promoting traditions and food culture, and boosting the local economy.
Food is much more than just a good: it holds the story of a place. It represents its culture. Food doesn't only feed our body but nourishes our relationship with a city. This is also why urban markets and farms are places of urban transformation where new stories are continuously created.
Any city can thrive to be a sustainable Euphemia.