The Covenant of Mayors – Europe Office, led by Energy Cities, develops publications that help cities and towns get a better understanding of the financing and funding solutions at their disposal, and how they can make use of them.
As part of a series of four publications, the Covenant Office has just released two new guides, one on Financial Institutions Instruments, and the other on the EU Funding Programme.
In these publications you will get information on how to collaborate with the European Investment Bank, tips to apply for centralised funding programmes, and examples of cities that got financial support for their energy and climate action through these schemes.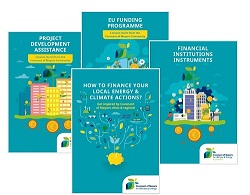 Download the publications from the Covenant of Mayors – Europe website: