Transportation is accountable for around 30% of the EU's greenhouse gas emissions – a big portion of which is related to the use of passenger vehicles. In cities, reducing the use of cars is crucial to reducing emissions and reaching climate goals. This entails a clear transformation of our cities' streets and urban landscapes. Meaning that transforming a city's mobility is not something that goes unnoticed: it takes bold action and a strong will to create meaningful change. For a city to raise ambitions in terms of mobility, it needs to set concrete and visible goals that citizens can see in their streets and feel in their daily commutes.
Are you ready to step up your game in your city's sustainable mobility plan? Find inspiration in this list of mobility-related tangible targets for your city, inspired by citizen assemblies, local pacts, and other projects across Europe.
In its Roadmap for 2030, the city of Dublin aims to decrease the number of children arriving at school by car. In order to achieve this goal, the city counts on developing bikebus routes. The city could start by developing 1 bikebus route per school.
Barcelona is famous for its very developed bikebus routes or "bicibus". The project started as a citizen-led project in 2021 and is now supported by the City Council. In the oldest route, almost 100 people (children and their parents) are riding every morning.
Another interesting measure of the Dublin Roadmap is the setting the default speed limit to 30km/h in urban areas.
Implementing such a speed limit seems to have great effect on car traffic, as shown in Brussels. In 2018 the green party, Ecolo-Groen, set the goal of reducing car traffic by 25%. The Good Move Pentagone set a speed limit of 30 km/h in the center of the city as well as others measures. After 6 months of implementation, they registered a 20% decrease of car traffic.
To tackle the mobility topic, the Flemish pact proposes to create 1 meter of bicycle lanes per citizen.
In Germany, many cities developed an efficient network of cycling lanes, and Bremen is the leading city. With more than 500,000 inhabitants, Bremen boasts 821 kilometers of bike paths. In 2020, the city went a step further, creating a "bicycle zone" in the Neustadt district. The zone includes 12 streets and about 2.5 kilometers of road space.
The Local Citizen Covenant of Est-ensembleproposes to set up a car free day per month, backed with free public transport.
The Albanian Government decided to establish a car-free day per month in all of its cities. The country took this measure to save fuel in the context of the energy crisis but also for environmental and health reasons.
The Spanish city of Vitoria-Gasteiz successfully made 75% of the city center pedestrian. Today, the total pedestrian surface is about 500,000 m2.
Similar initiatives have been carried out in Europe and even in larger cities. The city of Gent, in Belgium, is famous for its pedestrian zone as well as its new low emission zone. Both areas cover a large part of the city center and have led to remarkable increase of air quality and use of alternative mode of transportation (bike, foot, public transport).
Dublin decided to change its public bus fleet to 100% low emissions vehicles.
The Netherlands set up the goal of 100% of zero-emissions standard for new buses. Today, around 80% of buses in the country are already electric vehicles.
The Flemish pact adopted the target of 1 charging point per 100 citizens to support the development of Electric Vehicles (EVs).
Norway is the current leader in Europe when it comes to EVs, as the country aims to have a zero-emission car fleet by 2025. The country has the highest density of charging points: 18,000 all over the country. In Oslo, there are 5.47 EV charging points per square kilometer, which represent almost 4 charging points for 1,000 inhabitants.
---
More tangible targets for your city…
Are you looking to set ambitious targets for your city's transition?
Find further inspiration in our Tangible Targets publication, which includes a comprehensive set of 33 targets spanning across food, housing, mobility, energy, biodiversity, circular economy, and awareness raising!
… Inspired by Citizens' Assemblies
To compile this list, we largely drew inspiration from citizens' assemblies focused on climate issues in various European cities. Many times, the measures debated and suggested in these assemblies are much more ambitious than the policies implemented. We hope that such measures emerging from Citizens' Assemblies inspire bolder and faster action in cities across Europe, putting the citizen at the center of the transformational journey towards a climate neutral and resilient future.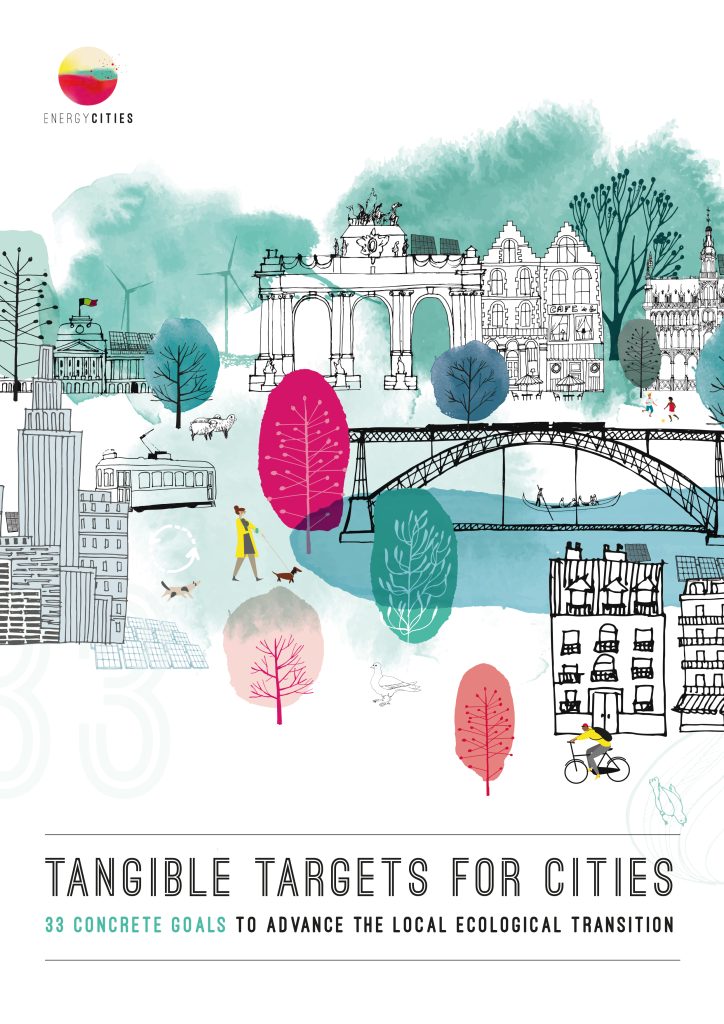 Tangible Targets for Cities: 33 concrete goals to advance the local and ecological transition.