Since 2017, PROSPECT enables the exchange of knowledge and experience between EU cities and regions, on innovative financing schemes for their local projects on energy and climate.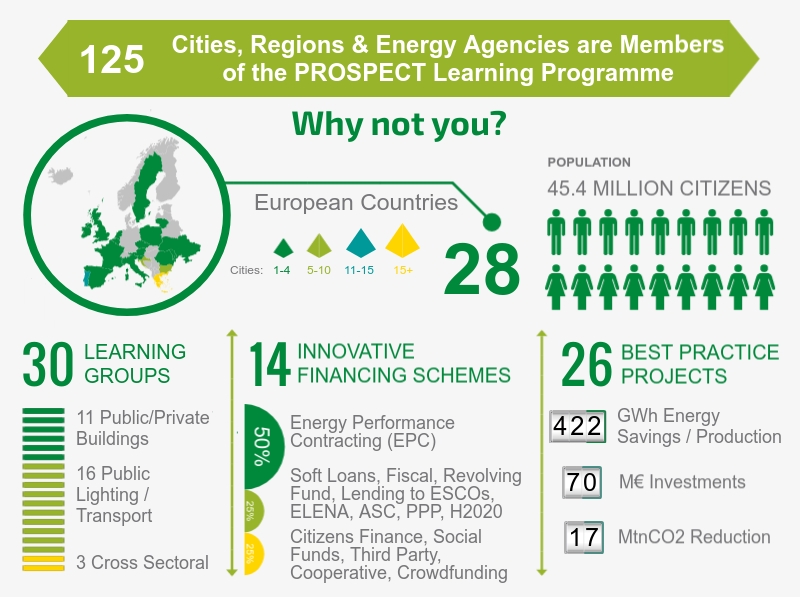 After three successful engagement campaigns, resulting in more that 120 participating local authorities, PROSPECT is launching a fourth call for applications, for a last learning cycle that will start in November 2019.
EU cities and regions, as well as their energy agencies, can apply, either as mentors or mentees, in the following deadlines:
Mentor applications are open until the 31st of July 2019 (more info and application form).
Mentee applications will be open from 2 to 30 of September 2019.
More on PROSPECT financing schemes and learning modules
By innovative financing schemes, PROSPECT refers to non-traditional ways of raising funds by mixing different sources or engaging different partners, such as:

– energy performance contracting,
– third party financing,
– revolving funds,
– soft loans,
– green bonds,
– guarantee funds,
– and citizen finance (cooperatives and crowdfunding).

The PROSPECT learning programme is organised around 5 thematic modules:


– public buildings
– private buildings
– public lighting
– transport
– and cross-sectoral (energy production and distribution, urban planning, climate actions, …)
For further information please visit h2020prospect.eu or contact us.