On October 18th, city leaders will have the chance to convene in the magical city of Thekla, a city undergoing constant construction, as it follows an ever-evolving blueprint designed by the stars in the night sky. Thekla's perpetual development and constant evolution guarantees it never gets destroyed nor loses life.
If you ask "Why is Thekla's construction taking such a long time?" the inhabitants continue hoisting sacks, lowering leaded strings, moving long bruses up and down, as they answer "So that it's destruction cannot begin. And if asked whether they fear that, once the scaffoldings are removed, the city may begin to crumble and fall to pieces, they add hastily, in a whisper, "Not only the city." If, dissatisfied with the answers, someone puts his eye to a crack in a fence, he sees cranes pulling up other cranes, scaffoldings that embrace other scaffoldings, beams that prop up other beams. "What meaning does your construction have?" he asks. "What is the aim of a city under construction unless it is a city? Where is the plan you are following, the blueprint?" "We will show it to you as soon as the working day is over; we cannot interrupt our work now," they answer. Work stops at sunset. Darkness falls over the building site. The sky is filled with stars. "There is the blueprint," they say.

Invisible Cities, Italo Calvino
Mayors' Voice at Energy Cities' Inspirational Day in Modena
Thekla is one stop in the journey we're taking you on for our Inspirational Day at the Annual Forum in Modena. You'll have the chance to travel through a series of fictional cities representing each of Energy Cities' hubs to explore the ideas, innovations, and visions they have to offer.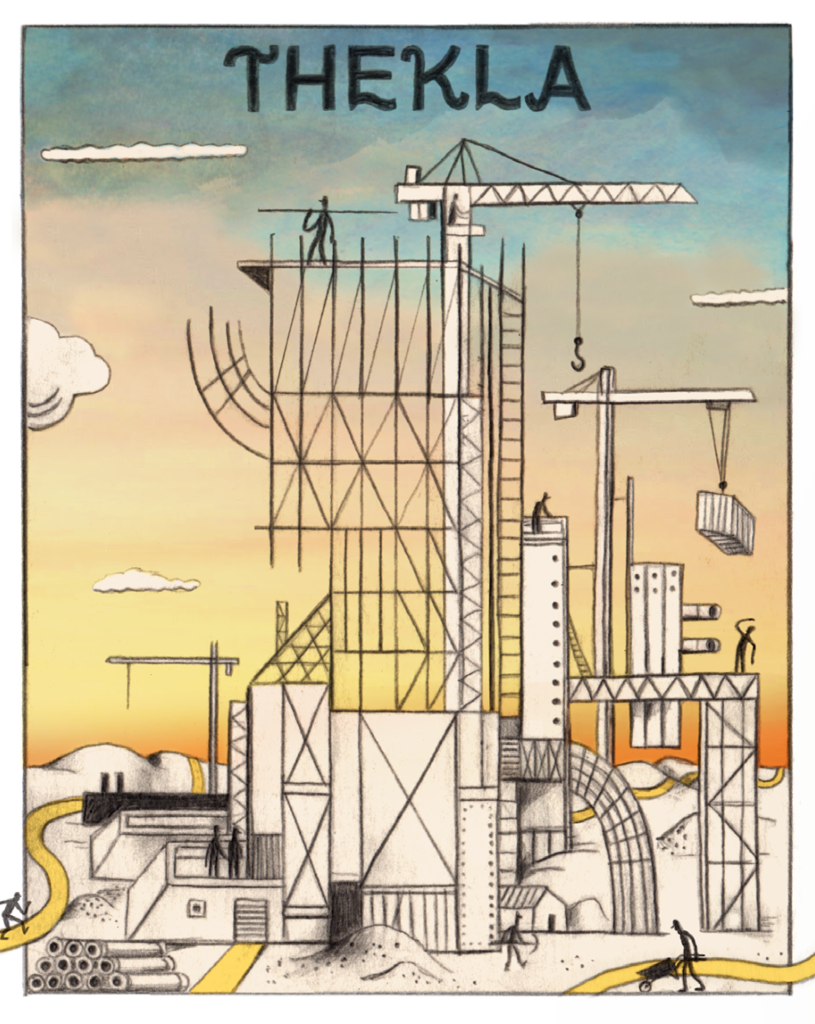 Thekla is where mayors and city leaders will be able to engage in discussion about the future that they want to build for their cities and the blueprint to follow. Like Thekla, our cities need to constantly evolve and adapt, following shifting paradigms, if they want to move towards a more sustainable, resilient and just future.
In Thekla, elected representatives will exchange strategies for overcoming local opposition, fostering respectful debates, and sharing responsibilities to further mobilise their local communities. Thekla will also be the place for elected officials to share their visions of a sustainable future that takes into account "well-being" economics and a shifting economy.
Journey through the invisible cities
To discover the hidden potential of our cities, this year's annual forum's inspirational day will bring you on a journey through seven entirely fictional and enchanting cities drawn from Italo Calvino's "Invisible Cities". Italo Calvino's novel is a poetic and imaginative exploration of cities, real and unreal, as narrated by Marco Polo to Kublai Khan.
Thekla is the city for mayors to convene and exchange, but we also have destinations where city practitioners and elected representatives can engage to discuss essential topics from all our hubs.
You'll have the chance to travel to Ersilia, where relations hold a city together and become the centre point of your city's governance; to Isaura where an underground lake will reveal the different ways to liberate your city from fossil dependency; to Andria, where the city's alignment with constellations will spark discussions on how locally-produced community energy can drive the transition; to Euphemia where you can rethink food policies by exchanging stories and dreams; and to Olinda, where cities grow within the city, showing you how to recover and revitalise your city's spaces.
What are you waiting for?
Ready to delve into Calvino's imaginary world to find radical answers and practical solutions for your city's tomorrow? With a range of activities and interactive sessions, you can choose the topics that interest you the most and navigate through the different stages of this journey through Calvino's "invisible cities" alongside fellow city leaders and experts. Make sure to register for Energy Cities' Inspirational Day on Wednesday, October 18th!